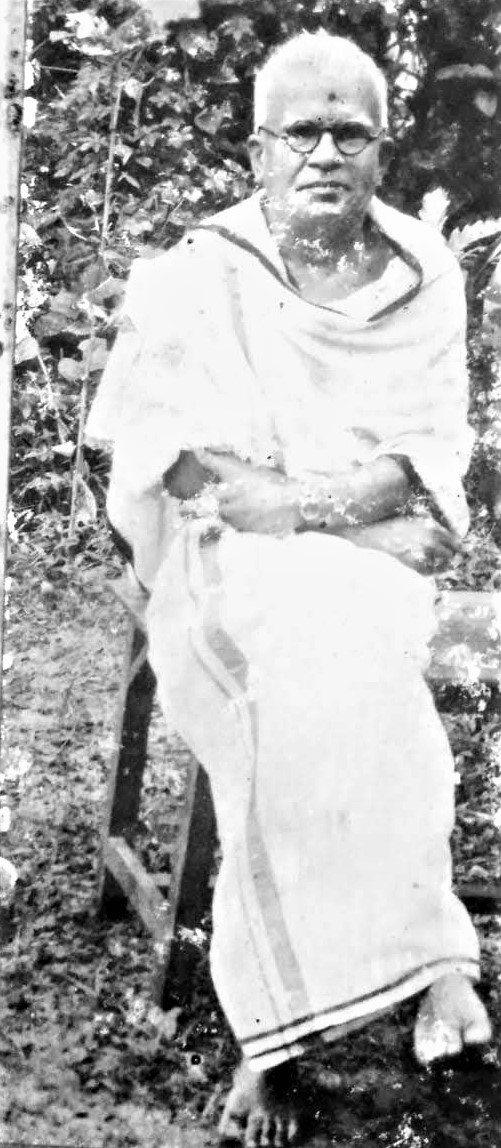 Pazhayannur Rama Pisharody (1894-1960) was a writer in Malayalam and English, of considerable repute, as well as an untiring philanthropist and social worker. He was also well-known for his activities in the areas of moral education in schools and colleges, and his promotion of spiritual discussions and discourses. Rama Pisharody was the only offspring of Vengi Pisharassyar of Pazhayannur Thekkoottu Pisharom and his father was an Ayyer. Rama Pisharody was a teacher by profession.
He was an active member of the then Samastha Kerala Pisharody Samajam/Vaishnava Samajam which was formed in 1920s and he also worked as Secretary of the said Samajam. 
Rama Pisharody started his literary career with five plays in Malayalam which do not seem to have received much public attention. But soon he moved on to and found his true genre in writing about the great men of history and religion like Ashoka, Gautama the Buddha, Shankaracharya and Ramanujacharya, in simple Malayalam which could be read by school-children and people of limited education. "Avatara Purushanmar" was a work that brought forth the essence of the incarnations of God in various religions. His book, "Bhoota Daya", which was published in 1939 under the auspices of the Madras Society for the Prevention of Cruelty to Animals, celebrated the compassion for animals demonstrated in the life stories of Turgenev, Tolstoy, Abraham Lincoln, Gautama the Buddha, etc. Another touching book on self-refinement through compassion for animals, titled Karuna, was one of some fifteen books authored by him that were approved by Madras Textbook Committee for school use. His two novels were Pativratharatnam based on the story of Kovilan and Kannagi, and Swarnakumari, an adaptation to the Indian milieu of Sir Walter Scott's "Quentin Durward". He did adaptations of Tolstoy's "How Much Land Does A Man Need?", "Two Old Men" and other stories. He used to write travelogue in Mathrubhumi. In the 1950s, he was a regular broadcaster on All India Radio, Kozhikode and his last broadcast essay on "Athishayoktiyum athinte Prathyaghathangalum" was featured on 30th May, 1960, just three days before his death due to heart attack. He passed away at Attur on 2nd June, 1960 at the age of 66.
His family details:
Wife: Late Attur Pisharath Ammu Pisharasiar
Children: Late A Amminikutty(Unmarried), Late A Damodara Pisharody(Wife:Cherukara Leela Pisharody) , Late A Rama Pisharody(Wife:Thonnangamath Ratna Pisharasiar), Late A Thanka Pisharasiar(Husband: Thongangamath Mukundan), Late A Viswanathan(Wife: Kallil Pisharath Vijayalakshmi & A Ramachandran(Wife: Sukapurath Mathathil Sathi).