Pisharody Samajam Website was founded in February 2002.
Samajam website is the daily online newspaper of Pisharody Samajam, which is getting updated every minute with latest news about Samajam and Pisharodies, world over.
Initially designed and developed by Manoj Pisharady, Mudakkari Pisharam and subsequently taken over by Muraleedharan V P, the site had a literary magazine for youth named "Yuvachaithanyam". The concept of Yuvachaithanyam internet youth magazine, was conceived based on a century old youth wing magazine of certain Pisharodies lived then, who wanted to educate and promote literacy amongst the Pisharodies those days. This internet magazine "Yuvachaithanyam" was published successfully till November 2007, but thereafter unfortunately, maybe due to lack of literary contributions from members or for other reasons, stopped publication.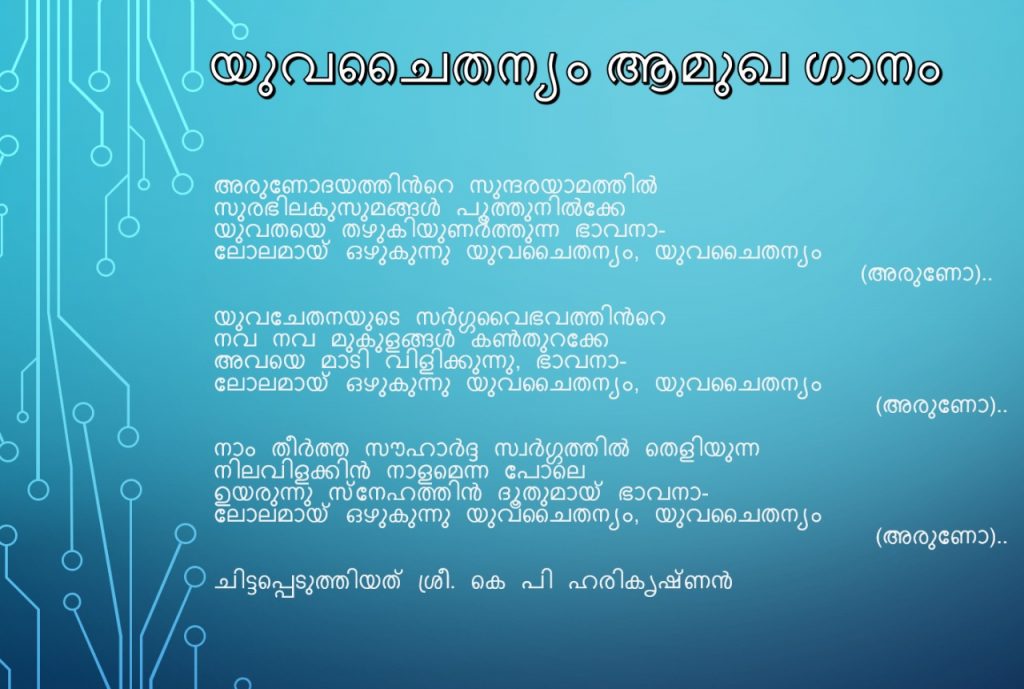 Nevertheless, our website (minus the "Yuvachaithanyam" magazine), was active with maximum possible daily updates. However, after 2010, when the Social Media became active, the website's importance gradually faded, with only a few visitors(around 30 per day) to visit the site.
On 1st May 2015 with the initiative of a few members, an official Facebook group called Pisharody Samajam was created and enrolled a large number of members. In this Facebook group, we started publishing/updating all Samajam and Pisharody related news on daily basis. This group presently is well patronised with over 3500 members around the world.
On further thoughts on how to uplift and improvise the Samajam website, we decided to expand its editorial board with more technical and creative members, and inducted M/s Bhasiraj, Murali Mannanur, Vijayan Alangad and T P Sasikumar, to the team. With the valuable input received from the new team members, it was possible to redesingn the site from Static one to Dynamic, with WordPress platform.
It is really gratifying to note that today, the Samajam website is widely visited with an average hit of 1000 per day.
We have thereafter started publishing Thulaseedalam, the literary mouthpiece magazine of Pisharody Samajam as E-dalam on our website and have redesigned the advertisement spots in Dalam's print edition and Website with combo offers. This step undoubtedly has been a great help to our esteemed members, who are able to read the Dalam on internet, much before the print version reach them by post.
We are committed to improve the website into another level with members data in a password protected enviornment.
Do keep visiting the site, and send us your valuable suggestion and contribution if any. We look forward to your patronage.
Website Team
| | |
| --- | --- |
| Administrator | V P Muraleedharan |
| Chief of Technical Support | Bhasiraj |
| Creative Team | Anil Pisharath & Bhasiraj |
| Business Support Team | Murali Mannanur & Vijayan Alangad |
| Data, News sourcing & Publicity | T P Sasikumar & Murali Mannanur |
| Technical support | Manish Mohan |
Advertisement Rates
| | | |
| --- | --- | --- |
| | Wedding /Pirannal | |
| 1 | Full Page Col Ad | Rs.5000 (Thulaseedalam full page + Website photo insertion same day morning + additional 20 photos of the functions later in the day) |
| 2 | Half Page Col Ad | Rs.2500( Thulaseedalam Half page + Website photo insertion same day morning + additional 10 photos of the functions later in the day) |
| 3 | Advance intimation of Pirannal/Wedding along with above ads | Rs.500 extra to the above 1 & 2 |
| 4 | Wedding Date to Remember | Video insertion in website- Rs.2500 extra ( Will run the video for a week prior to wedding) |
| 5 | Wedding Teaser insertion | Video Insertion in website – Rs.2500 extra ( Will run the video for a week after receipt of teaser) |
| 6 | Wedding Date to remember and After wedding Teaser Combo offer with full page | Rs.9000/-(5000+4000) |
| 7 | Wedding sponsorship of Thulaseedalam & above date to remember and teasers Combo offer | Rs.18000/- |
| 8 | Matrimonial Ads- Combo offer | Rs.1000/- |
| | | |
| --- | --- | --- |
| | Commercial Advertisements | |
| 1 | Thulaseedalam Cover Page including Inside Cover | Front & Back – 48000 per annum with additional coverage of header scrolling ad in website |
| 2 | Small entrepreneurs of our community | Rs.2000/- for side ads in Website(3 Months) with a small quarter page B&W insertion in Thulaseedalam(One month). |
| 3 | Big establishments of our community | Rs.5000/- (Three months)for top scrolling band in website and a half page Color ad in Thulaseedalam(One month) |
| 4 | Featured advertisement of the big establishment in website and Thulaseedalam with spots running top scrolling band(Three months) of website and a full page col ad in Thulaseedalam (one month) | Rs.10,000/- |
| | | |