LIST OF PISHARAM
Akathiyoor Pisharam

Amayur Pisharam

Amballoor Pisharam

Ampoorimadhom, Cherukunnu

Anayath Kattuthrikkovil Pisharam

Ancheri Pisharam

Andam Pisharam

Anthimahakalankavu Pisharam, Chelakkara

Anupurath Pisharam

Arakav Pisharam

Arakkal Pisharam, Irinjalakkuda

Arangottu Pisharam

Avanamcode Pisharam, Chowwara

Ayyappankavil Pisharam, Kottayi

Azhakath Pisharam

Chakrath Pisharam, Karimpuzha

Chalakkal Pisharam

Chendathrikkovil Pisharam

Chenganickattu Pisharam

Chelakkara Pisharam, Thrissur

Cherankara Pisharam, Mayannoor

Cheranellur Pisharam, Ernakulam

Cherukattu Pisharam

Cherukunnu Thekke Veetil Pisharam

Chithali Pisharam, Palakkad

Chittari Pisharam

Chirakkal Pisharam, Thalyolapprambu

Chowwara Pisharam

Chunangad Pisharam

Dakshinamoorthi Pisharam, Kuthannur

Edanad Pisharam

Edayar Pisharam, Koothattukulam

Elamkulam Pisahram, Ernakulam

Eramallur Pisharam, Kothamangalam

Eranellur Pisharam, Kechery

Eswaramangalam Pisharam, Ponnani

Govindapuram Pisharam, Thrissur

Govindapurath Pisharam, Kodakara

Govindapurath Pisharam, Kozhikkode

Govindapurath Pisharam, Mannarkkad

Indianoor Pisharam

Kadavallur Pisharam

Kainila Pisharam, Karalam

Kalat Pisharam, Guruvayoor

Kandathil Pisharam

Kandiyoor Pisharam

Kanhirangat Pisharam, Kanayam

Kannambra Pisharam

Karakkurissi Pisharam

Karoor Pisahram

Karuvambram Pisharam, Manjeri

Kattavattur Pisharam, Desamangalam

Kattiri Pisharam, Kattussery

Kattoor Pisharam

Kavallur Pisharam

Kavasseri Pisharam

Kavil Pisharam, Kongad

Kavil Pisharam, Kodakara

Keezhadoor Pisharam

Kizhakkekkara Pisharam, Karakurissi

Kizhakkekkara Pisharam, Thippilissery

Kizhakke Pisharam, Mulagunnathukavu

Kizhakke Pisharam, S.Chittur

Kizhakkepat Pisharam, Eswaramangalam

Kizhakkepat Pisharam, Thirunavaya

Kizhayoor Pisharam

Kotumunda Pisharam, Pattambi

Koottala Pisharam

Koranganath Pisharam

Krishna Pisharam, Irinjalakkuda

Kudalil Pisharam

Kundoor Pisharam

Kunnathu Pisharam, Valachagoshtam

Kuttamassery Pisharam

Kuzhimana Pisharam, Mavoor

Madhathil Pisharam, Mannampatta

Maduppulli Pisharam

Malamakkavu Pisharam

Manjaloor Pisharam

Mampillil Pisharam

Manithara Pisharam

Manjapra Pisharam

Manjeri Pisharam

Mannannur Pisharam

Manthrathil Pisharam

Mariyappilli Pisharam, Kottayam

Melittil Pisharam, Vallappuzha

Mekkad Pisharam

Mukkattukara Pisharam

Mutakkari Pisharam

Mutavannur Pisharam

Nayathode Pisharam

Nellampani Pisharam

Nooleli Pisharam

Nhangattiri Pisharam

Padinjare Pisharam, Mulagunnathukavu

Padinjare Pisharam, S.Chittur

Padinjare Pisharam, Triprayar

Padinjaredath Pisharam, Kidangoor

Padinjathara Pisharam,Kuthanur

Palanur Pisharam

Palayi Pisharam

Pallavur Pisharam

Parippil Pisharam, Kottayam

Pathaikkara Pisharam

Pathappiriyath Pisharam

Pattisseri Pisharam

Payyaloore Pisharam, Kollengode

Pazhaya Pisharam, Karimpuzha

Pazhedath Pisharam, Kodakara

Peringottiri Pisharam

Perumpilav Pisharam

Perumpilli Pisharam, Mulanthuruthi

Peruvanam Pisharam

Pirappankodu Pisharam, Thiruvananthapuram

Pothiyil Pisharam

Poothrikkovil Pisharam

Poothrukovil Pisharam

Poovathoor Pisharam, Perumbavoor

Pullissery Pisharam

Punnasseri Pisharam, Pattambi

Puramundekkat Pisharam

Purayankulangara Pisharam, Kulappully

Puthiyedath Pisharam, Guruvayoor

Puthiyedath Pisharam, Puthiyedom, Kanjoor

Puthuckulangara Pisharam

Puthur Pisharam, Perinathalmanna

Ramapuram Pisharam, Kattakambal

Ramapuram Pisharam, Koothattukulam

Ramapurathu Pisharam, Manaly, Pudukkad

Rishinaradamangalath Pisharam

Shariyedath Pisharam, Kozhikkode

Shivaliyil Pisharam

Sukapurath Pisharam

Thamarakkulangara Pisharam, Thrippunithura

Thalakulathur Pisharam

Thalayinackadu Pisharam

Thekke Pisharam, S.Chittur

Thekkeppatt Pisharam, Kulappully

Thekkepat Pisharam, Kalluvazhi

Thekkoote Pisharam, Pazhayannoor

Thichur Pisharam

Thirumittakode Pisharam

Thirunarayanapurath Pisharam

Thiruvathra Pisharam

Thondiyannur Pisharam, Pattambi

Thrippatta Pisharam

Trikkavil Pisharam, Varandarappilli

Trikkovil Pisharam, Chembra

Thrikkavu Pisharam, Ponnani

Thivikramapurath Pisharam - Kalluvazhi

Vadakke Pisharam, Paloor

Vadakke Pisharam, Venganellore, Chelakara

Vadakkoott Pisharam, Pazhayannur

Vadanamkurissi Naduvil Pisharam

Valvachagoshtam Pisharam, Nagarkoil

Valloor Pisharam

Varavattoor Pisharam

Vattenat Pisharam, Koottanad

Velappaya Pisharam, Thrissur

Vellarkkad Pisharam

Vennimala Pisharam, Kottayam

Vijayapurath Pisharam, Kottayam

Vilayath Pisharam

Vyloor Pisharam

Perumthrikkovil Pisharam, Kollankod
Pisharam in Detail
Appankalam Pisharam, Pangu
Appankalam Pisharam is situated at Pangu on the Perintalmanna-Kadampuzha Road near Pulamanthole, Malappuram Dt.
Appankalam Piharodies have got their sir name "Unni" from Valluvakkonathiri.
Paradevatha - Thirumandham Kunnu Bhagavathi, Angadippuram
The Bheemanad Pisharam is situated at Bheemanad Village near Mannarkkad, Palakkad Dt. The Bheemanad Pisharam family has been in Bheemanad for around 180 years. The family has its roots in Trikkoor in Thrissoor district in Kerala, and is believed to have migrated to Bheemanad to work in the temple dedicated to Lord Vishnu in Bheemanad. To help them settle down in Bheemanad, our ancestors were granted a plot of land adjacent to the temple, where our ancestral house remains to this day. Generations of our family have worked in this temple. The family presently includes four branches: (1) Govinda Pisharody, based in Lakshmi Nilayam, Bheemanad, (2) Manoharan Pisharody, based in Ottappalam, (3) Chandran Pisharody, based in Cochin, and (4) Thankam and Unnikrishnan, based in Cochin and Bheemanad. . We have a website www.bheemanad.com that contains a lot of information on our family members, origin, location, address, and contact details
Chelakara Pisharam is in Trichur District, situated on the Wadakkanchery-Pazhayannur Road, near Shree Narasimha Moorthy Temple, Grammam.
Links - Vellarkkad Pisharam.
It is situated at Eranad Taluk of Malappuram Dt. on the Manjeri-Arecode Road.
Links - Peringottiri Pisharam
Cherukara Pisharam is situated at Eravimangalam near Cherukara on the Perintalmanna-Pattambi Road. History says Cherukara Pisharody became Naduvazhi during Mamamnkam as a token of appreciation for the help given to Valluvakkonathiri alongwith a big portion of land at Cherukara. Cherukara Pisharodies have a sir name of "Unni" alongwith their name. Known history starts from one Pisharasiar who got ten children named, Valiaya Bharathanunni, Kannanunni, Valiya Krishnanunni, Valiya Narayananunni, Gopalanunni, Parukkutti, Lakshmikutti, Narayani, Kunjukkutti, Ammu.
Paradevatha - Lord Ayyappa
Links with other Pisharam - Pazhayannur Vadakkoottu Pisharam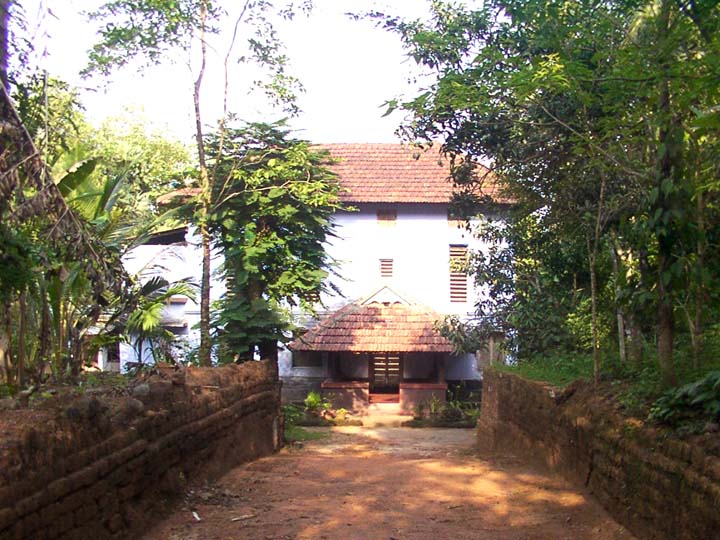 View from Poomukham of Cherukara Tharavadu
It is situated at Cherukunu, near Annapoorneshwari Temple, Cannanore, Kerala. As per heard knowledge they came along with Godess Parvathy from Kashi. They have a Dharmashastha temple which has given to the Annapoorneshwari temple trust in resent times. It is a very small family may be having 15 members as on today.
Dakshinamoorthi Pisharam, Kuthanoor
This pisharam is situated Near Kozalmannam,Kuthanoor. Pisharam is situated near the Dakshinamoorthy temple.

Kaninadu Pisharam is situated near puthencruz in Ernakulam dt. it is very near to kaninadu bhagavathi temple.
Kavil Pisharam is situated near the Thirumandhamkunnu Temple, Kongad. We do the kazhakapravarthy of the above temple and our moolakudumbam is Mundayil Pisharam Kallekulangara, Palakkad.
Links-Manakkulangara pisharams .
Kizhittil Pisharam is situated at Kuruvattoor in Ottappalam Taluk, Palakkad Dt near Vallappuzha Rly station on the Shoranur-Nilambur rail link.
Madassery Pisharam
Madassery Pisharam is in Puthenvelikara village, Ernakulam dt. Near by places are North paravoor, Kodungallur and Mala. We have our roots in Chenganikkattu Pisharam,Aloor,Trichur dt. As per heard knowledge, one member from chenganikkattu pisharam migrated to puthenvelikara along with his sister, to do kazhakam in a temple (Karottu Sree Krishna Swami temple) in puthenvelikara. They were granted a plot adjacent to the temple (might be by the temple authorities) and settled down here. The name of the land was Madassey, so the name madassery Pisharm. The Kazhakam of this temple was the main livelihood for generations. Though we are not doing kazhakam now, we still have a close mental attachment with this temple. Apart from the main pisharam, all the branches of our family are situated near to the temple itself.
Links with other pisharm:- Chenganikkattu Pisharam, Aloor and Panangattukara pisharam, Vadakkanchery.
Paradevatha:- Chenganikkattu Sree Krishna Swami.
Click here for Family Tree of Madassery Pisharam
Manakkulangara Kizhakke Pisharam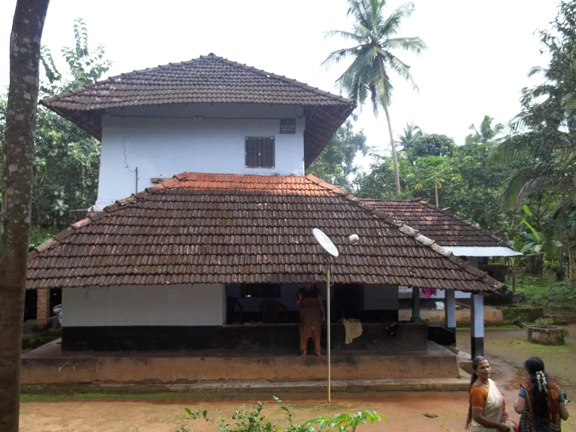 Manakkulangara Kizhakke Pisharam situated in Pulappatta Village (6 kms. From Kongad) near Manakkulangara Vishnu Temple is more than 100 years old. The inhabitant of the Pisharam was (Late) Janaki Pisharassiar and her family. This Pisharam is now being occupied and maintained by M.P.Govindan, one of her sons and his family. The successors (children, grandchildren and their families) of Janaki Pisharassiar, who are now settled in different parts of the Globe have come together and formed a Kudumba Sangamam by name `Dharbha Shringam', when they joined for the Inaugural Get Together at Harishree, the Residence of M.P.Haridasan (Son of late Janaki Pisharassiar) in Pulappatta on 25.12.2010.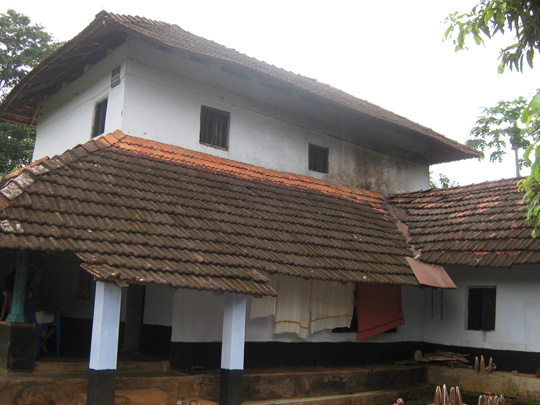 The 1st Anniversary of this gathering of reunion was grandly celebrated at `Sandeep Nivas', the residence of M.P.Ushadevi (daughter of late Janaki Pisharassiar) in Pulappatta on 15.08.2011 with a variety of cultural and entertainment programmes alongwith reminiscences from the elder members of the family about the History of the Pisharam, their Tharavadu and also history about the birth of the Pisharody Community.
It was felt by all the members who participated in this grand event that in an era where everyone has settled into nuclear families coming out of their Joint Family System, it has become very utmost and essential that such Kudumba Sangamams are held atleast once in every year. This helps each and every family member to know each other in detail and develop an attitude for love, co-operation and mutual bonding within the family members. It was also felt that it will be helpful for the upcoming generations to develop an emotional bonding with the family members, which will be motivational to them for their career and character development.
The young generation in the family have also come forward and formed a Group `Dharbha Shringam' in Facebook, through which the members of the family could share their views and experiences every day and come more closer with each other.
Hope the other Families in the Pisharody Community will also try to follow this example in their Families.
It is situated near Govindapuram Temple at Muriyad in Mukundapuram Taluk at Mankuttipadam, near Kodali, 8 Kms East of Kodakara. Kodakara comes in the Thrissur-Ernakulam route (NH47), 22 Kms from Thrissur.
Paradevata Temple - Govindapuram Mahavishnu Temple
Clicke here for the family treee
Mundayil Pisharam had situated in Kallekkulangara, Pallkkad Dt. Now this Pisharam has sold out. Inmates of that Pisharam people are staying at various parts of India and Abroad. This pisharam is the branch of Manakkulangara Pisharam.

Nharakkat Pisharam is located near Lord Guruvayurappan Temple at Guruvayur South Nada, Trichur Dt.

Padinjare Pisharam, Triprayar
It is situated near the famous Sri Rama Temple at Triprayar on the Guruvayoor-Kodungalloor road in Thrissur Dt.
Links - Karoor Pisharam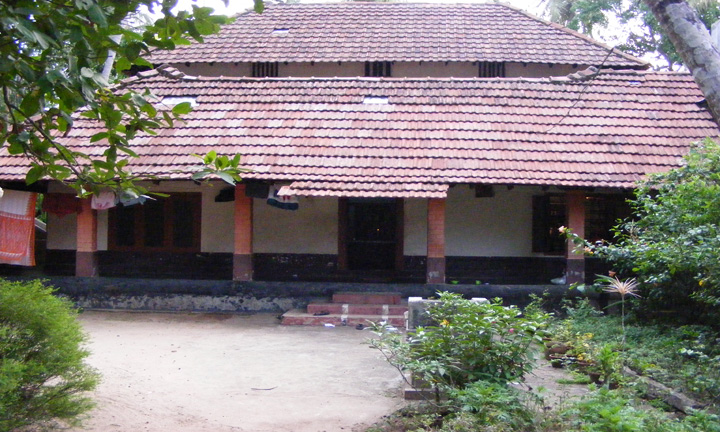 Padinjare Pisharam, Triprayar
It is situated near Parakkad Vishnu Temple at Kunnathangadi, Arimbur on the Thrissur-Kanjani Road.
Links - Kainila Pisharam, Karalam
Paradevata - Kumaranchira Bhagavathi
Pirapapncode Pisharam is situated enroute 25 Kms from Trivandraum in TVM-Kottayam MC Road near the Sreekrishnaswamy temple. It has routes to Kochukutyy Pisharasair of Parrakkadavu Pisharam, Ernakulam Dist. and Krishna Pishrady(late) of Kurumullor Pisharam of Kottayam Dist. The members are Symaladevi(Pirappancode), VG Pisharadi(Manarcaud-Kottayam-Late),SC Pisharady(Attinngal-TVM Dist),JC Pisharady(Chakka-TVM),
BR Pisharady(Pirappancde) & MN Pisharady(Palkulangara-TVM)

Purayankulangara Pisharam
Location: Kulappully, Shoranur
Paradevata -
Links to other Pisharam - Thichoor Pisharam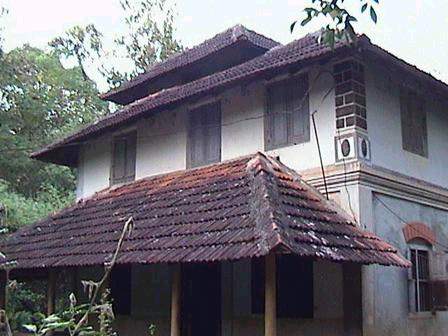 Purayankulangara Pisharam
Puthan Pisharam is situated at Killikkurussi Mangalam, Lakkidi, Palakkad Dist,Near Killikkurussi Shiva Temple.
Links - Attur Pisharam & Thrivikramapurath Pisharam – Kalluvazhi
Puthan Pisharam, Mapranam
Puthan Pisharam, Mapranam, a classic Nalukettu Structure, is situated a kilometre away from from Kurisu Palli stop facing the maginicient Srikrishnapuram Temple, Mapranam, Irinjalakkuda.
Thonnangamathu Pisharam, Thrissur
Padinjare Thonnangamath Pisharam is situated at Pazhaya Nadakkavu, Thrissur.
Vadakke Pisharam, Venganellore
It is situated at Venganellore village, Chelakara Panchayath, Thallapilli Thaluk, Trissur Dist. Our Link is with Vadakke Pisharam, Vellarkadu, Erumapetti, Wadankanchery.

Vallachira is in Trichur district around 7 Kms from Trichur. Nearby places are Thiruvallakkavu,Cherpu,Urakam,Ollur,AArattupuzha etc.This is near Vallachira Bhagavathi Temple.(Thevar and Ganapathy are also there in the temple)Nandikkara temple is our Tharavadu Temple.(Mooladaivam)We were having Kazhakam in the temple along with Warriers,but now the Kazhakam is done by Warriers as there is nobody at the Tharavadu.Connected other Pisharams are Mankuttippadam,Anchery.Thriprayar,Pazhuvil and Mekkattu Pisharams are blood relatives of Vallachira Pisharam.(Vallachira is the MOOLAKUDUMBAM of these Pisharams).Now the members of this Pisharam are scattered in Different places like Mankuttipadam,Anchery,Trichur, Edakalathur, Chowwara, Mumbai, Mysore, U.A.E, U.S.A and Canada.

Click here for Family Tree of Vallachira Pisharam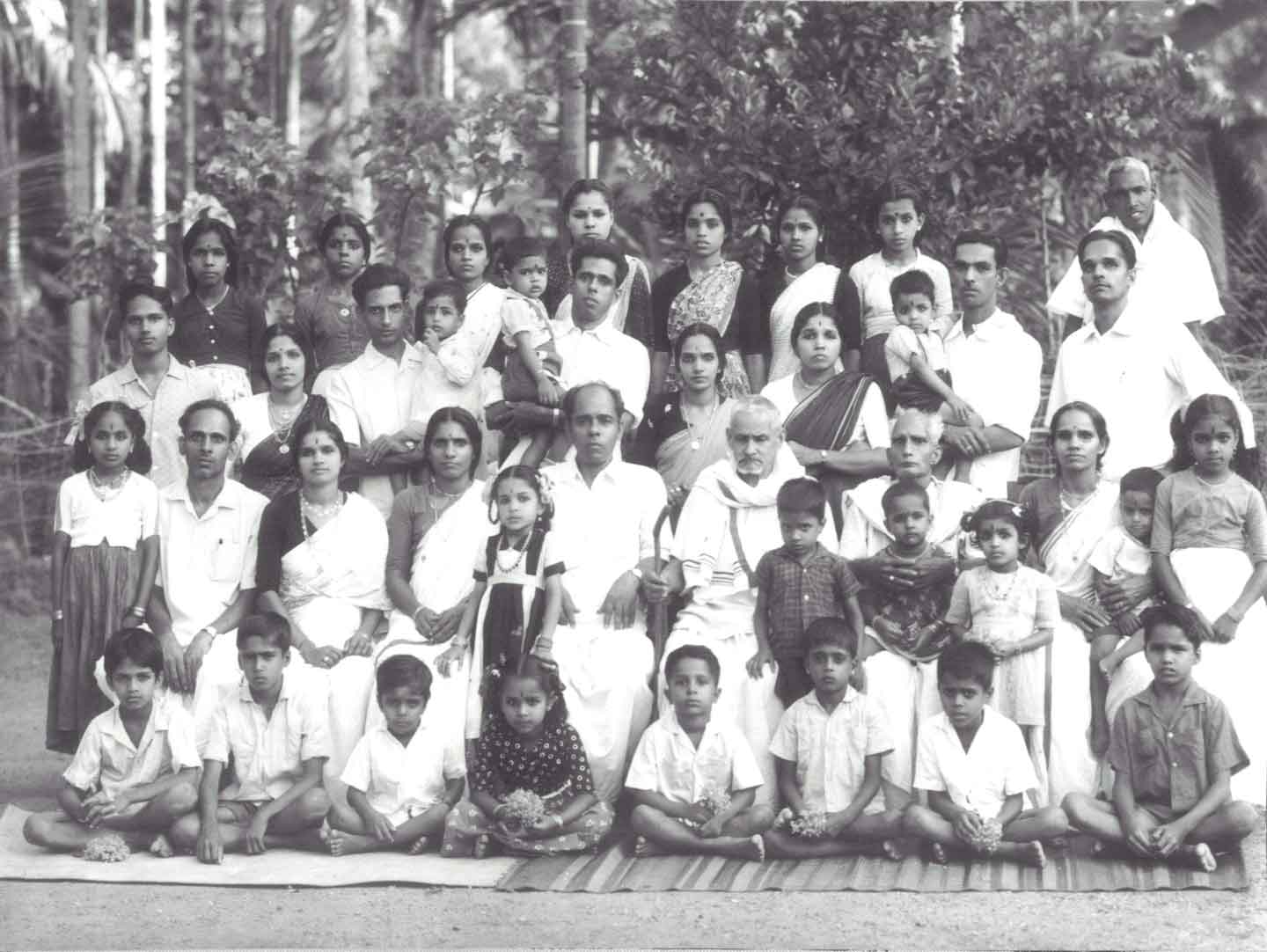 A group photo of Vallachira Pisharam Kudumbam taken in 1965
Vattenat Pisharam is situated near Kootanad on the Pattambi-Guruvayoor road in Palakkad Dt.. Probably this pisharam was set up by a Pisharasiar who came from Kodikunnath Pisharam for Kazhakam at Thiruvanippuram Shiva Temple at Vattenad. History of Present thavazhi is known from one Muthassi named Manka Pisharasiar, her daughter Narayani Pisharasiar and her children. The present generation of Vattenat Pisharam is either children or grand children of daughters of Narayani Pisharasiar. The family tree of the Manka Pisharasiar till her grand children are given below:
<![if !vml]>
<![endif]>
Paradevata - Mulliyamparambath Bhagavathi, Chalisseri
Links with other Pisharam - Kodikunnathu Pisharam